Politics
Miguna Miguna Offers To Swear Donald Trump As America's "People's President"
Canadian-based Kenyan lawyer Miguna Miguna has delved into American politics which has been the world's concern lately.
Americans on Tuesday went into the polls to elect their 46th president, the contest being between Democratic's Joe Biden and Republican's Donald Trump. Signs have already hinted Biden could be taking it, having accumulated more than 260 electoral colleges, a few away from the needed threshold.
Having sensed defeat, the incumbent Trump expressed his dissatisfaction with the whole process saying he would go to a court of claims in the country to have the exercise of vote counting stopped until his concerns have been looked into.
Trump's team claimed they had been denied access to numerous counting locations thus not being in a position to observe the ballots' opening and the counting process.
Trump had clued at handing himself win putting at stake the credibility of the whole exercise potentially denting the good reputation America has had in matters electoral justice and democracy as a whole.
Following his uneasiness with the voting exercise, Kenyans advised Trump to seek Miguna's assistance as he would go ahead and swear him the laws in place notwithstanding.
The Kenyans were referring to the events in early 2018 when Miguna swore Raila Odinga in as the 'people's president' after the latter had disputed the 2017 presidential vote which had Uhuru Kenyatta emerging the winner.
Already having a suit filed to challenge the counting exercise, Trump has shown he may find it hard to concede defeat from Joe Biden who has vowed to unite the country in the event that he emerges the winner and thereafter sworn in as the 46th POTUS.
Miguna Miguna has acceded to the pleas of Kenyans to leave Canada for America to swear Trump in if that can be his consolation after the tough contest.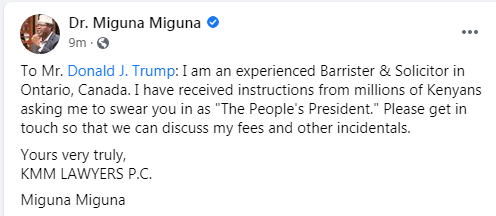 With vote-counting almost getting done, there exist uncertainties in the aftermath of the election. Judging from the votes he already garnered, Trump has posed a worthy contender given his presumed poor management of the Covid-19 pandemic that ravaged the powerful nation in the universe.
Read more: President Kenyatta's Full Speech On The Covid-19 Measures
Facebook Comments